I've written 2 books for the popular 'What's Your Excuse?' series.  Designed to motivate and inspire. Ideal as gifts, too. So boost productivity. Or learn to declutter. Read on …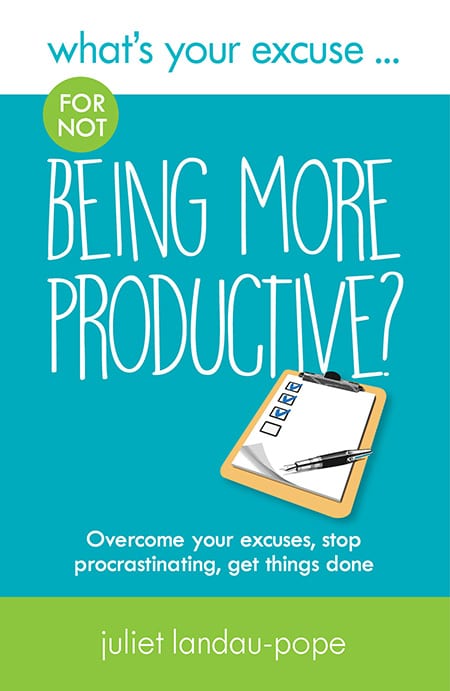 Being More Productive
Do you struggle to manage time? Dread deadlines? Or yearn to stop procrastinating?
Productivity coach Juliet Landau-Pope is an expert on motivation. In this book she explores the most common excuses for avoiding tasks. First she looks at the stories that underpin these excuses. What do we tell ourselves – and others – when we procrastinate? Then she offers ways to rethink these narratives. In brief, when you shift story, you'll learn to shift the habit. As a result, you'll learn how to boost motivation and productivity. So if you're overwhelmed by your to-do list, don't despair. Order this book now!
£8.99 (including p+p)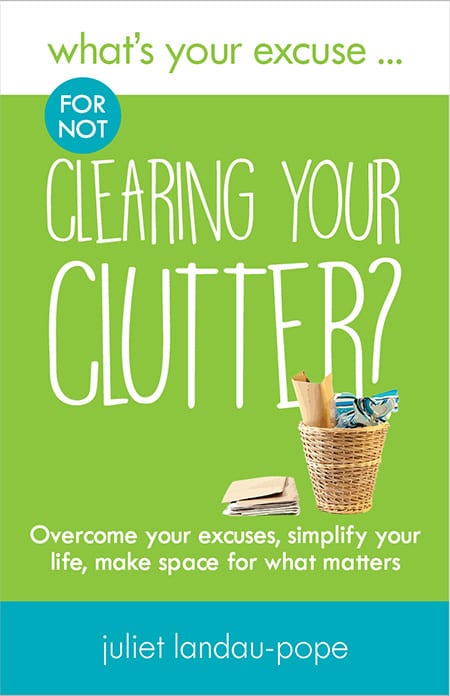 Clearing Your Clutter
Are you overwhelmed by clutter? Keen to get organised but unsure where to start?
Productivity expert Juliet Landau-Pope has coached hundreds of people to shift habits as well as surplus stuff.  In addition to home decluttering and organising, she's led the 1st UK training courses for professional organisers. And now she also offers virtual decluttering and organising services.  So she understands the challenges. In her 2nd book, she outlines the most common excuses for avoiding clutter. Then she offers new perspectives boost motivation and confidence. Step by step, this book will help you to clear your clutter and simplify your life.
£8.99 (including p+p)
"Juliet's warm and accessible writing will inspire you to put down your to-do list and achieve even your least favourite task. She guides us past every obstacle to reach our goals. You will be inspired!"
"This is a very useful and easy-to-read book, It guides the reader, using lots of interesting anecdotes and quotes, to discover why it is that they individually procrastinate. Just don't put off buying it!"
"This may be the only organising book you will ever need! Juliet has the experience and the insight to help readers to understand their relationship with clutter, and practical tips to put to immediate use for instant results"
"This is a brilliant book! Because it is not only unequivocal in its approach but also because it addresses the subjective, emotional and thinking parts of ourselves. Simply written, to the point, great advice."