Professional organising & decluttering in London. Exam revision & study skills
Decluttering and organising on your own can be daunting, especially when dealing with change. It's hard to know where to start and easy to get stuck.  At any age or stage of life, procrastination can be a major challenge.
The same is true of academic writing and exam revision. Organising your time, your resources and your thoughts is vital. But it's stressful when you don't actually know how to plan or prioritise.
Don't worry, help is at hand. I'm London's leading declutter coach and study skills consultant, offering a portfolio of services for adults and teenagers to boost time management and organising skills:
Practical help and emotional support to clear clutter in your home and in your head
Home visits in London and/or coaching by phone/skype
Practical strategies to plan exam revision, boost memory and reduce stress
Individual coaching and workshops for students of all ages. Advice and support for parents, too
Motivational talks and innovative training to promote time management, organising and productivity
Life coaching in person or by phone/skype to help you overcome procrastination and/or perfectionism
_________________________________________________________________
**********       NEW BOOK        **********
Published in Sept 2017, in the stylish What's Your Excuse? series
Print editions available in good bookshops and for kindle via Amazon
Or order your copy here
NEXT BOOK COMING SOON!  (March 2018)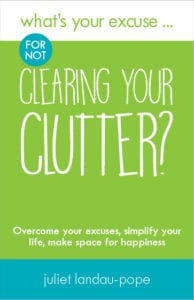 __________________________________________________________________________________